Northcott Snowy Owl panel

Northcott Snowy Owl Panel Snowy Owl sitting on a log by a stream in winter. Coordinates shown


3 Wishes Fabric/Good Kitty Cat Panel

3 Wishes Fabric Kitty Cat Panel Has nine squares with sayings; measures approximately 36 x 40" Coordinates to go with panel available


AGF Studios pine lullaby panel AGF 1

AGF Studio Pine Lullaby Bear Hug panel 36" white background with a big bear and small bear hugging in black line drawing with yellow moon and a black banner on botton with Bear Hug in yellow


Benartex "Mischief" Growth chart girl (Ben 6)

Benartex "Mischief" growth chart with alphabet/pictures to match for a girl


Benartex Cat's Meow Cat Panel (Ben4)

Benartex Cat's Meow panel different cats with bird/bird house, butterflies/dragonflies, bowl with fish with cream backgrounds surrounded by blue


Benartex Festive Chickadees Ben 8

Benartes Festive Chickadees Panel chickadees on holly with red berries and birdhouses. different sizes of squares with different scenes


Benartex Winter Wishes Panel/15 pictures of snowmen (ben 3)

Benartex Winter Wishes 15 - approx. 6" squares of snowmen some repeats. Snowmen have cream background with black sashing with snowflakes


Benartex Winter Wishes Panel/sm pictures snowmen Ben 7

Benartex Winter Wishes 15 pictures of snowmen panel


Benartex Winter Wishes Snowmen/blue panel (ben1)

Benartex Winter Wishes panel two pictures of 3 snowmen dresses and bearing gifts of Christmas with light blue background with snowflakes (ben1)


Benartex Winter Wishes Snowmen/red pane (ben2)

Benartex Winter Wishes 2 pictures of 3 snowmen dresses in their Christmas best, bearing gifts, tan background with snowflakes (ben 2)


Blank Gone Fishing Panel fish/green BLK3

Blank Quilting Gone Fishing pictures different kinds of fish mostly from the Pike family. Green background with browns and reds on fish.


Blank Spooktaculor Halloween panel BLK 7

Blank Spooktaculor Halloween panel with pictures of goodies to eat, cat in a hat with hat boxes, spell books cooking pot pumpkins and witch's legs 2/3 yard cut


Blank Story of Noah panel BLK 2

Blank Quilting Story of Noah has pictures and words telling the story of Noah. You get 2 panels in one


Blank Under The Sea Blue panel BLK 4

Blank Quilting Under The Sea Panel Fun fish from the oceans, whales, shark, turtle, etc. on blues


Blank Western Album Blue panel BLK 1

Blank Western Album pictures of ranch life, windmill, log cabin with windmill, covered wagon, cowboys on horses, more, all in shades of blue


Blank Y'all Be Merry Christmas panel BLK 5

Blank Quilting Y'all Be Merry Western Christmas


Clothworks Dogs and Doggies panel CW3

Clothworks Dog and Doggies by Laurel Birch Classic Laurel Birch designs of dogs with bright colors and accented with gold


Clothworks Laural Land CW 1

Clothworks by Laurel Birch Laurel Land for baby saying "The day you were born the world became a brighter place" with a sun, doggies and kitties.


Clothworks Laurel Land CW 2

Clothworks Laural Land by Laural Birch a baby panel with alphabets, baby buggies, rocking horses and animal all highlighted in gold


Elizabeth Studio All Is Bright Panel

Elizabeth Studio All is Bright panel blue night sky background with Christmas Village scene; kids bring home tree, river bare trees & a bit of Northern lights coordinate snowflakes available.


Elizabeth Studio Little Light Soft Book ES2

Elizabeth Studios Little Light Soft Book The nativity with words


Elizabeth Studio Wonderland Panel

Elizabeth Studios Wonderland panel winter scene at sunset in the mountains with cabin, elk & a red truck


Elizabeth's Studio Snow people panel ES1

Elizabeth's Studio Snow People Snow people enjoying winter sports approximately 8 x 8 inch squares


Exclusively Quilters Leopard pannel EQ1

Exclusively Quilters Leopards panel with one large front section of cat, and one smaller of mom & kittens, one walking


Henry Glass Fireside Kittens

Henry Glass Fireside Kittens larger part of panel with kittens around the Christmas Tree and fireplace. 2 small pictures are of kittens sleeping in windows


Henry Glass Fireside Kittens

Henry Glass Fireside Kittens small pictures of kittens in different Christmas settings


Henry Glass Hop To It panel/squares/bunnies

Henry Glass Hoop To It panel with multiple 4 1/2" square of different bunny pictures


Henry Glass Jesus Loves Me 2 panel/book

Henry Glass Jesus Loves Me panel/soft book story of Jesus Loves Me with children


Henry Glass Panel Holiday Heartland/Advent calendar

Henry Glass Holiday Heartland Advent calendar winter scene of barn, sleigh with quilts, mainly red and white


Henry Glass Silent Night panel/song

Henry Glass Silent Night The song of Silent Night in stripes with the parts of the Nativity scenes on each line


Henry Glass Silent Night/ Joy, Love, Peace, Rejoice

Henry Glass Silent Night scenes from the Nativity laying on top of Joy, Love, Peace and Rejoice words


Henry Glass Who Me? panel blue HG 5

Henry Glass Who Me? 3 large owls sitting on branches colors of light blue, dark blue, yellow tan, green and brown for boys


Henry Glass Who Me? panel pink HG4

Henry Glass Who Me? 3 Large owls sitting on branches, in purple, pink yellows and greens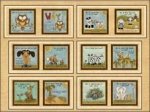 Henry Glass Why panel/soft book

Henry Glass "Why?" panel/soft book with animals gives answers to questions kids might ask.


Hoffman Halloween witch H1

Hoffman Halloween witch on broom over house on orange background


Hoffman Autumn panel

Hoffman Spectrum Print "American Byways" Autumn a path/road through fall colored trees with falling leaves. Colors of fall in golds, reds, orange & green


Hoffman Call of the Wild Horses/Dawn/Digital

Hoffman Digital print of white horses at dawn


Hoffman Panel Digital White Tiger/Ice Blue

Hoffman Digital Print Panel White Tiger Ice Blue


Hoffman Spectrum dot.batik/multi panel

Hoffman Spectrum dot. batiks multi colored samples in a honey comb design


Hoffman Spectrum Print, flower - opal

Hoffman Spectrum Print large flower-opal