Moda Bears Just Wanna Have Fun

Moda Bears Just Wanna Have Fun Dark green leaves


SALE:
$ 9.00

$ 7.20

per yard




Moda Bears Just Wanna Have Fun blue leaves

Moda Bears Just Wanna Have Fun light green leaves


SALE:
$ 9.00

$ 7.20

per yard




Moda Bears Just Wanna Have Fun green leaves

Moda Bears Just Wanna Have Fun dark green leaves


SALE:
$ 9.00

$ 7.20

per yard




Moda Chutes and ladders

Moda Chutes and Ladders dark purple, light purple and blue stripes


SALE:
$ 9.00

$ 7.20

per yard




Moda Cold Winter Noses cream/ferns

Moda Cold Winter Noses cream background with green lined ferns


SALE:
$ 9.00

$ 7.20

per yard




Moda Happy Hollow Fall leaves on green

Moda Happy Holiow Light red and yellow leaves on light green background. Fall Fabric


SALE:
$ 9.00

$ 7.20

per yard




Moda Honeycomb Harvest gray oak leafs

Moda Honeycomb Harvest gray oak leaves and acorns on black backgound


SALE:
$ 9.00

$ 7.20

per yard




Moda Natural gardens

Moda Natural Garden dark purple flowers, leaves and stems on light purple


SALE:
$ 9.00

$ 7.20

per yard




Moda Pumpkin and Spice Leaves on brown

Moda Pumpkin and Spice red and yellow maple and oak leaves with acorns on brown background


SALE:
$ 9.00

$ 7.20

per yard




Moda Pumpkin and Spice Leaves on orange

Moda Pumpkin and Spice red maple leaves, yellow and red oak leaves with acorns on orange background


SALE:
$ 9.00

$ 7.20

per yard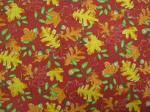 Moda Pumpkin and Spice Leaves on red

Moda Pumpkin and Spice red maple leaves; yellow and red oak leaves with acorns on red


SALE:
$ 9.00

$ 7.20

per yard




Moda Scaredy Cat green, leaves

Moda Scaredy Cat light olive green background with purple tiny leaves with dark green berries


SALE:
$ 9.00

$ 7.20

per yard




Moda Scaredy Cat orange, leaves

Moda Scaredy Cat orange background tiny purple leaves and black berries


SALE:
$ 9.00

$ 7.20

per yard




Moda Twigs and Berries Gold berries on black

Moda Twigs and Berries purple and gold berries on black background


SALE:
$ 9.00

$ 7.20

per yard




Moda Twigs and Berries gray leaf on green

Moda Twigs and Berries Greenish gray leaves on light green background


SALE:
$ 9.00

$ 7.20

per yard




Moda Twigs and Berries Green on green oak leafs

Moda Twigs and Berries green on green oak leaves on green


SALE:
$ 9.00

$ 7.20

per yard




Moda Twigs and berries leaves

Moda Twigs and Berries blueand tan leaves on black background


SALE:
$ 9.00

$ 7.20

per yard




Moda Twigs and Berries leaves/blue

Moda Twigs and Berries twigs and leaves on blue background


SALE:
$ 9.00

$ 7.20

per yard




Alexander Henry Snowman border print

Alexander Henry Snowman border print


SALE:
$ 9.50

$ 7.60

per yard




And Sew it Goes kit

Quilt size 55" X 72"


Apple A Day

Apple A Day includes 3 projects, Wall Hanging, Table Runner and Place mats with backing for place mates.


Benartex Winter Wishes Panel/15 pictures of snowmen (ben 3)

Benartex Winter Wishes 15 - approx. 6" squares of snowmen some repeats. Snowmen have cream background with black sashing with snowflakes


Benartex Winter Wishes Snowmen/blue panel (ben1)

Benartex Winter Wishes panel two pictures of 3 snowmen dresses and bearing gifts of Christmas with light blue background with snowflakes (ben1)


Benartex Winter Wishes Snowmen/red pane (ben2)

Benartex Winter Wishes 2 pictures of 3 snowmen dresses in their Christmas best, bearing gifts, tan background with snowflakes (ben 2)


Boo Who? kit

Boo Who kit contains a throw quilt 51x57", Door Banner 25x52", and trick or treat bad 17" square.


Boo! kit

Boo! kit 56x56"


Critter Christmas

Critter Christmas kit includes wall hanging 48 x 68"; Pillows sizes 10 x 24" and 17" square. Doesn't include tree skirt.


Garden Friends Monthly Kit

Garden Friends was a 6 month BOM, so kits are cut that way, with the finishing kit. These are mainly bird houses with different birds, and a cat sitting at the bottom looking up. 62x73"



Out of Stock
Harvest Market Placemat kit

Harvest Market Kit includes the fabrics for 6 placemats with backings. Placemat size 13 1/2 x 18".


Haunted Oz kit

We didn't have the pumpkin fabric, so we substituted for Halloween dots. Quilt size 46" x 46"


Haunted Pumpkins kit

Jack- O- lantern head in the middle of a 46" x 46" quilt. We have substituted some fabrics in this quilt, as we didn't get exactly what we needed for them. The pumpkins were suppose to be in and were not, so we put in Halloween dots instead.


Let's go Camping kit

Quilt size 57" x 69"


Moda Cattails and Clover - circles - tan

Deep red, gold, blue, green Circles with cream designs inside on tan.


SALE:
$ 11.75

$ 9.40

per yard




Moda Cold Winter Noses Santa M12

Moda Winter Noses panel has Santa with Rudolph, each with red noses. Around the edge says, "Tis the season for cold winter noses, checks red as roses and warm happy hearts".


Moda Day Dreams Panel Blue M15

Moda Daydream panel by Deb Strain. The panel can be cut apart and used as small wall hangings for any one who needs a little lift in their lives. One is labeled Journey, another Inspire and another Dream.


Moda Day Dreams Panel Green M16

Moda Day Dreams panel in green by Deb Strain


Moda Follow Your Heart Panel M24

Moda Follow Your Heart Panel background in tans


Moda Follow Your Heart Panel M25

Moda Follow Your Heart panel came on from a Christmas line, but can also be used with a Valentine's Day theme. Coordinates are in the Moda section.


Moda Hearts Aflutter Panel M29

Moda Hearts Aflutter not only has four different pictures of simple flower arrangements, but it also has Valentines that you can make into post cards to send to those special people in your life.


Moda Into the woods panel M18

Moda Into the Woods panel has baby animals, such as deer, moose, bear & fox.